VOIP Choose the VoIP Solution That Best Fits Your Business.
Regardless of the the size or shape of your business, Argyle IT Solutions can help you choose the VoIP system that best suits your unique needs and budget.
With industry-leading VoIP phone solutions from partners like Allworx, Cisco, and Polycom you can count on our team to help you decide on the most cost-effective solution.
Allworx Phone Systems

We Understand and Exceed Expectations
Unlike many competitors' systems, Allworx gives you the luxury of choice in telephone technology. Our systems support both analog and VoIP phones — in any combination. That means you can adapt new technology all at once, or build up gradually. Either way, you have entered into the world of effortless communication.
When it comes to understanding and exceeding customers expectations, no one does it better than Allworx. All our systems are designed and manufactured with five key attributes, each of equal importance:
Innovation, Value, Reliability, Customer Focus, and Quality. The result is that rare and unique combination of products that meets your needs today and tomorrow, works every day without interruption, has capabilities beyond others, lasts for generations, and provides cost savings from the very first day.
Allworx makes it effortless to communicate. That's why Allworx is the right choice for your business.
View a short video that explains

The Allworx Advantage
Allworx gives you the largest set of traditional telephone capabilities of any VoIP solution in its class!
Innovation
SIP before SIP was cool — ten years ago, our systems were designed to be exclusively SIP based. That decision is what makes Allworx the market leader in IP based phone systems.
Intelligence creates power — presence management, caller ID based routing, unlimited call routes, unlimited devices, unified messaging and more create a powerful foundation for your business communications.
Mobility in so many ways — from remote phones to Advanced Multi-site serving up to 99 other locations, to Reach™, a SIP based mobile phone application, Allworx gives you many ways to connect remote locations or employees together.
Features as required — powerful features like Automatic Call Distribution, Advanced Multi-Site, Call Assistant™, Conference Center, Reach™, Interact™ and TAPI are activated easily via software keys … add them as you need them.
Value
Your total cost of ownership promises to be less than any other fully-featured VoIP communication system. Lowest expansion cost — with no need for gateways, expansion cards or other third-party products.
Proven savings — with SIP trunks, remote phones or Advanced Multi-Site for multiple offices, expanding your options between sites lowers operating costs. Quick user adoption minimizes training costs for new employees.
Hassle free remote access — remote users connect instantly using ordinary broadband connections and without extra hardware, software or cost.
Sensibly priced options — software options are priced so they won't break the bank or incur recurring monthly or annual maintenance charges.
Know your long term costs — Allworx pricing is straightforward and uncomplicated. Optional extended hardware warranties and/or software upgrade keys are available for every budget.
Reliability
Allworx has delivered for over 10 years by maintaining our product line, including ongoing support for the first product we ever built.
Same features, same operation — calls continue to work like your traditional phone system, so the switch to an Allworx system is transparent.
Disaster recovery — multiple options help to see you through critical situations.
Energy savings with less hassle — our products are designed to use fewer parts, and with fewer parts fewer things go wrong, they use less energy and have lower energy costs.
Customer Focus
We design our products to balance these capabilities with your need for simplicity.
Easiest to use — a choice of Allworx phones with multiple configurations means you can replace what you have today without fear. Intelligent design makes the Allworx system incredibly easy to use and administer.
Simple transition — intuitive user interfaces assure that both administrators and users will smoothly learn all the capabilities of the new system without skipping a beat.
Easiest to grow — add phones without costly hardware cards or software. Installation is complete in minutes or hours rather than days.
Features that match our customers — from schools to real estate to health care, Allworx continues to listen and consistently develop new features that exceed every need.
Quality
Dedication to quality is not a goal but a way of life.
Strict control — from design to manufacture, to inspection, delivery, and support in the field, our strict controls and attention to every detail ensure only the highest quality product is installed.
Warranty options — we offer cost-effective warranty options that can be maintained throughout the life of the system. We understand that quality and peace of mind go hand in hand.
More Info:
Phone Systems
Allworx gives you the luxury of choice in telephone technology. Our systems supports both analog and VoIP phones — in any combination. That means you can adapt new technology all at once, or build up gradually. Either way, you're implementing the solution at your own pace, without compromising.

Allworx 48x
The Allworx 48x is the largest and most powerful of any Allworx system to date – supporting up to 250 users per system. Its two T1/PRI interfaces make it the perfect solution for businesses, but not so large that they need the significant expense of an enterprise-class solution.
SIP trunk connectivity without additional hardware or software cost
Two (2) T1/PRI interfaces, each capable of supporting any mix of voice and data connectivity
Four (4) conference bridges with up to 30 users per conference and up to 60 users in all conferences simultaneously
Three (3) FXO ports and five (5) FXS ports
---

Allworx 6x
The Allworx 6x system integrates feature-rich phone system and a robust data network system with advanced features that substantially improve your company's productivity while saving you on-going monthly costs.
Supports VoIP and traditional phone lines without additional cost
Use analog and VoIP phones
PBX and/or Key system features
Built-in nine auto attendants
One (1) eight seat conference bridge
---

Allworx 6x12
The Allworx 6x12 delivers powerful all-in-one communications with feature-rich capabilities, in one integrated, low-cost package. Specifically designed for offices with up to 12 employees, this system combines advanced features — like remote IP phones that can connect from anywhere — with the reliability of true key system operation.
Supports all models of Allworx phones, and up to 6 FXO, 2 FXS and 2 generic SIP handsets
Easy to install
---

Allworx Px 6/2 Expander
Increase the power of your Allworx 48x, 6x and 24x Systems with the cost-effective Allworx Px 6/2 Expander. Use up to three Expanders simultaneously to add more FXO ports and FXS ports to your 48, 6x or 24x system.
Six (6) dedicated loop start FXO ports (e.g. traditional telephone lines - Central Office PSTN service)
Two (2) dedicated internal FXS ports (e.g. analog phones & fax machines, alarm systems)
Easy plug-n-play connection
More Info:
---
Allworx phones work seamlessly with the Allworx systems to provide a fully integrated communications solution. No matter what Allworx system you select, you get all the same great phone features and functionality. All Allworx phones are compatible with all Allworx servers.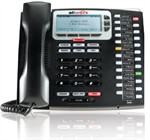 Allworx 9224 IP Phone
The Allworx 9224 is a sophisticated and flexible top-of-the-line phone – perfect for executives, office managers, and active employees who make and receive a high volume of calls.
---

Allworx 92/24 Tx Expander
The Allworx Tx 92/24 Expander is the ideal solution for anyone who needs an array of one-touch features or the ability to monitor or route a high volume of calls directly from their phone. Up to three Tx Expander units can be anchored to any Allworx 9224 phone for an additional 24, 48, or 72 PFKs – offering you access to a total of 96 PFKs with just one phone.
---

Allworx 9212L IP Phone
The Allworx 9212L is the newest extension to the already robust Allworx series of phones. The vibrant, high resolution full backlit display is at the heart of the Allworx 9212L.
---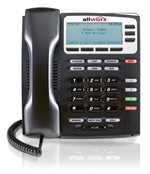 Allworx 9204 IP Phone
The sleek, stylish design of the 9204 is ideal for any office setting. If you have minimal need for call line appearances, the Allworx 9204 is just right for you. Two additional outstanding features of this phone are the back lighted LCD display and the 4 programmable feature keys.
The Allworx 9204G is the latest and most complete phone with Gigabit Ethernet connectivity. This IP Phone also includes all the celebrated features of the 9204 with its Gigabit connectivity.
---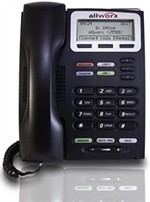 Allworx 9202E IP Phone
The Allworx 9202E has a sleek, compact design and is extremely easy to use. With its contemporary minimalist design approach, it is the perfect solution for customers with a need for high level functionality in a low traffic environment when desk space is at a premium.
More Info:
---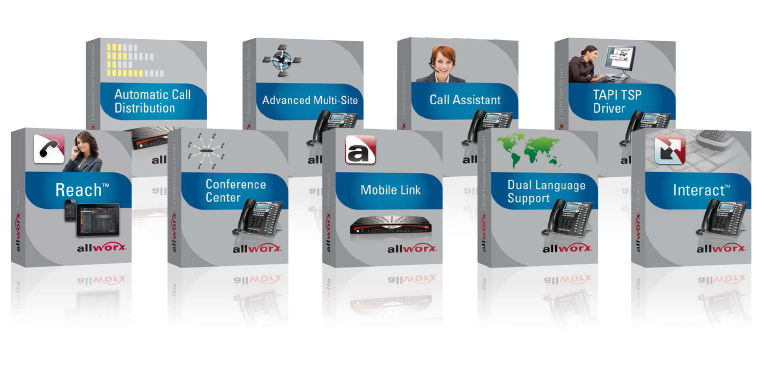 Allworx software features help your business increase its productivity, efficiency and customer response.
Advanced Multi-Site
Completely seamless call processing experience with true unification across all sites
Automatic Call Distribution
A robust system allowing you to distribute queued calls in linear priority, round robin, longest idle and ring all styles
Call Assistant
Live answer position allows operators to easily manage incoming calls via a software tool
Conference Center
Allows you to host conference calls with remote colleagues, internal employees, customers and business partners
Dual Language Support
Provides voice prompts in two of the three offered languages (English, Castilian Spanish, and French Canadian)
Allworx ReachTM
Allworx Reach™ combines effortless communications with complete mobility. Whether your smartphone or tablet is Apple or Android, Reach brings the rich functionality of your Allworx phone to your smartphone. Both Wi-Fi and cellular data networks are utilized for Allworx Reach access, so anywhere there is a signal — from across the room or across the globe — you are connected
TAPI
The Allworx TAPI TSP (Telephony Service Provider) Driver transforms your Windows-based PC into a communications powerhouse
Interact
Allworx Interact allows total control over your Allworx phone from your Windows-based PC. From Interact to Interact Pro to Interact Supervisor, there is an application to suit every need
More Info:
Fill Out This Form
For A FREE
No-Obligation Quote!
Important! We hate spam as much (or more!) than you and promise to NEVER rent, share, or abuse your e-mail address and contact information in any way.